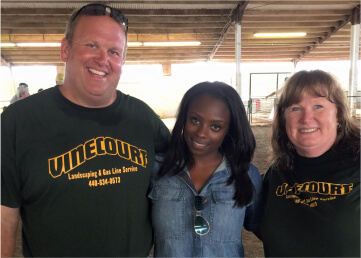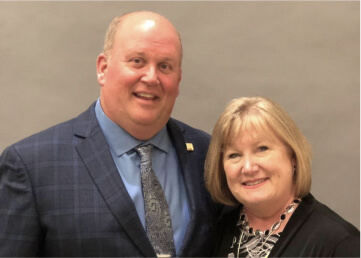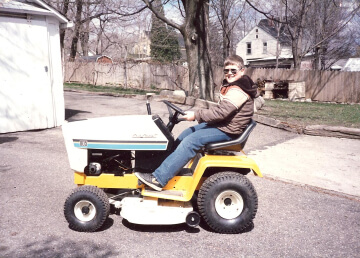 In 1984, Jim Vinecourt's parents sat him down at the kitchen table and asked him what he wanted to do for a living. He said, "Help the neighbors by mowing their grass and shoveling their driveways." He was 10 years old.
With a reel mower, a snow shovel and a dream, Vinecourt Landscaping & Gas Line Service Inc. was founded. Originally called Jim's Lawn Service, the company has evolved over time to meet the needs of its clients. And today, with an ever-expanding staff, the latest equipment, up-to-date horticulture technology and natural gas pipeline certifications, Jim's original dream continues to prosper to this day. Back in 1984, he wanted to help his neighbors, and he has been continuing to serve them ever since. Vinecourt Landscaping & Gas Services is proof that with a solid work ethic and a "do unto others" attitude, the American dream is alive and well.
When did Jill come into the picture? On May 1st, 1999, Jim married Jill.
She had been Vice-President of Operations for a manufacturing plant in Middlefield, Ohio, but she decided to leave her career for a life with Jim–both at home and on the job! She believed the best way to learn all aspects of the Vinecourt business was to start out in the field as all new employees do. She worked on maintenance, construction, snow plowing and installation crews. She then went back to college to become a Geologist to support the Natural Gas Line component of the business. This experience gave her a unique perspective as a manager, allowing her to fulfill the needs of customers and staff alike.
She is also one of the few women Natural Gas Pipeline Certified Fusion Technicians and Geologists in the State of Ohio. Jim and Jill provide their employees with education, certification and the most up to date equipment, allowing them to offer their customers the best service possible.
You've probably seen our trucks with the Vinecourt logo on the side in your neighborhoods. We have installation and construction crews spanning Ohio and beyond. In 2005, we opened our Natural Gas Line Service division with DOT certified installers trained to the highest standards. Today, we maintain commercial, residential and municipal properties during all seasons, including winter with our snow & ice management.
Vinecourt Landscaping & Gas Line Service Inc. has expanded to provide most exterior services available. The tag line, "If it's outside, just ask!" means exactly that.
Free estimates and consultations are always available along with computer generated design work. See the services page, and if you are not sure of a service need you have, just call.
With friendly, helpful service available 24 hours a day, Vinecourt Landscaping & Gas Line Service Inc. is a family business with old-time values and modern-day workmanship.